Time to Grow your Business fast!
Overnight success doesn't exist.
But you can grow your business fast,
if you focus your actions.
Let's create focus together!
Join now £47/month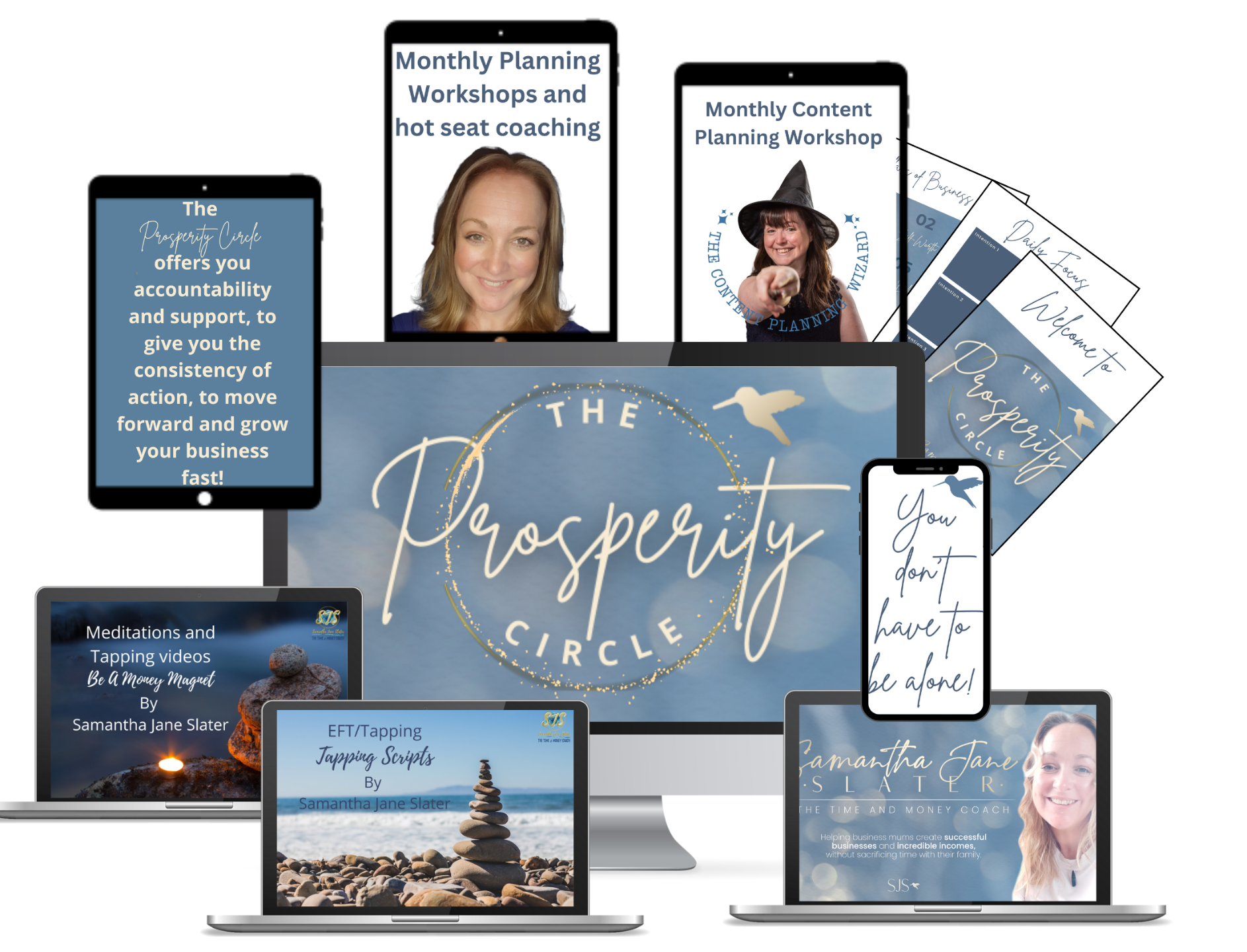 This is more than a membership…
This is a circle of support and accountability

to help you consistently focus your actions to create the
prosperity you deserve… FAST!
STOP!
Feeling like things aren't happening very fast, despite all the effort you put in,
Wondering why it's happening for others and not you,
Trying to do it all and not having enough hours
in the day
It's time to focus on what will get you
results…
Because just "20% of the actions you take,




achieve 80% of the results"!


Pareto Princple
What my clients say about working with me...
I went to the Monthly Planning workshop, Sam holds every month – and it was brilliant!
I've had a couple of stagnant months and haven't really moved forward, but came away from the session feeling positive and with some great plans in place.
I loved the work to help us overcome blocks to moving forwards and it was fab to meet such a supportive group of women.
So, quick hi to all the other Monthly planners – and if you haven't done so, I would recommend signing up.
See you there!!
Alison Gifford
Samantha has a special gift for pulling out of you what needs to get done and then helps you get it done by implementing plans and setting goals.
Her Workshops have totally changed my life!!!
I have gone from being all over the place, feeling totally stressed out and having a chaotic life to feeling calm and content. Knowing that I can achieve it all one step at a time. I am so incredibly grateful that Samantha and my paths crossed when they did.
I believe that everyone would benefit from Samantha's Workshops and 121's to get a grip on life.
Philippa Storie
Your Workshops have been so helpful to me….

I'm now setting out what I want to achieve and breaking it down into small chunks to get where I want to be by the end of the month.

I definitely achieve far better results – and my sales have increased since starting the workshop, which I'm really happy about!

It's fabulous value as Sam provides me with great advice and support.

If you're looking for a bit more structure to your monthly activities and are looking for the right support to help you along the way, I would highly recommend Sam's Monthly Planning Workshops, you won't regret it.
Teresa Palmer
How Will The Prosperity Circle Help You Grow Your Business Fast?
Every month, we deep dive into one of my
12 Steps to Consistent Business Growth,
to create the actions you need to grow your business FAST.
Every month, we'll take one of my
12 Steps for Consistent Business Growth and deep dive into the subject. Applying it to you and your business. Enabling you to focus on the 20% of actions that will achieve 80% of the results, so your business grows FAST!
There will be Masterclasses, Training videos, Workshops and/or Guest Experts, on the monthly growth subject, to aid your learning and better support your actions and achievements. Helping you get a deeper understanding of what you need to do, to achieve results quicker!
Once a month, we'll get together for a
Monthly Planning Workshop on zoom, to create your plans for the following month. Because by planning what actions you take, you're less likely to get distracted and more likely to achieve. Keeping you on track to take action on the 20% that will achieve 80% of the results.
Hosted by the knowledgeable Amy Downes aka The Content Wizard, there'll be a Social Media Content Planning Workshops every month, to help you create the content to support your monthly plans, without it taking up all your time!
As well as tonnes of support!
Monthly Planning Workshops and hot seat coaching to ensure you maintain your focus, to consistently grow your business

Monthly Content Planning Workshop with expert Amy Downes, so that your social media support yours business goals.

Incredible EFT and mediation Videos to ensure consistency and action
Impactful Meditations to support your mindset growth to prosperity
A supportive community of like-minded business owners who all want prosperity
Masterclasses and training on subjects to help you move forward faster in your business

This is what I've used to grow MY business FAST!
Despite being in business for a while, it's not always been a story of success. I remember reaching out to a business consultant for help to progress and being told I needed to earn more money!
Erm yeah I know… how????
That sentence "a victim of my own success" rang in my head! I was doing well, but I was also stuck! I'd reached a limit and quite frankly I couldn't see past it.
I felt alone and worst, stuck. I wasn't earning what I wanted and I couldn't see how to change it, to get what I wanted.
It took me a long time to get out of that state, and I made the decision there and then that this journey was for me to learn, so that I could help others… do it a LOT quicker!
And this is what The Prosperity Circle is all about… together we can grow our businesses FAST!
Are you ready to take action and get results?

You want to be accountable in your business
You're ready to take consistent action to grow your business
You want to be part of a supportive group of business owners, working together to achieve great things.
It's Time to Take Action!
What even more people say about working with me...
I was terrified when I started the monthly planning workshops but Sam and the other women are so welcoming & friendly.
At first I didn't think I needed planning sessions but they leave me feeling so much more motivated towards my business. It also helps to have the objective view and advice from everyone else. They help me see things from a different perspective & it often makes all the difference.
I genuinely look forward to the workshops now, not only do they leave me with much more direction each month but I've made some of the most wonderful friends too!
Debbie
I've been part of her monthly planning sessions for the past few months now and having that time to chat back and forwards with her and the other ladies attending about our plans for the next month is wonderful and helps keep me focussed.
I love her understanding and calm personality that makes you feel like you've known her forever, while her great energy picks up the entire zoom session and helps you stay positive even when tough situations come up and she helps you see through the fog of stress.
I highly recommend working with her and seeing how far you can go with someone who truly wants to see you succeed.
Mekahla Singh
I love Sam's energy and her honesty! She is truly genuine and you can feel that she wants for you the best, that you succeed, that you truly change your mindset and lift your business to the highest level.
I love her way of making you feel that everything is possible if you are committed to do the work, because she can give you the best tools if you are not implementing them you are not going to make the change!
She is there to give you all the tools and advice she can and she will!
Working with her opened my eyes much more and her program made me feel more confident to get out there get more visible and take my business to new level!
I truly recommend working with her and experience it for yourself how much she can give you and help you!
Erika Simon-Augustyn
Wouldn't recommend anyone else as a buisiness coach, you rock x
Francesca Wingfield
Sam is hugely professional but at the same time she puts a lot of passion into what she does, having taken the journey herself. She can relate to every step that we are taking and she does it with genuine compassion.
Julia Nesbitt
Sam knows what you need when you don't and she has an incredible intuition that she listens to to guide her clients. I would highly recommend working with Sam 121 or in her workshops. Although the workshops are aimed at our businesses we discuss much more than just that and the results can be seen. The connections and support the whole group offer each other is incredible.
Katie McGreal